The LC35-128 Digital Channel Board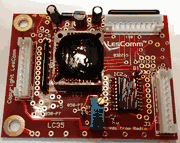 Product Description
LC35-128 Galaxy-Ranger version Product Description Designed to compete directly with the Galaxy-Viagra board. Gives 3 band coverage but also has a +10kc switch to get those "A" channels the Viagra kit doesn't! Unlike the Viagra kit, it uses the PLL to obtain the additional frequencies therefore eliminating all of the problems with the Viagra board. All bands use one clarifier circuit and forget about adjusting 6 coils to get all modes on frequency on Hi and Lo bands! The PLL circuit locks in those channels and modes just as it does for the regular CB channels! Yet, it retains the ability to upgrade. On the Galaxy radio's, it can use the NB/ANL switch. For the Galaxy 2547, 939 or 959-DX but will fit any radio with the same board. Such as the Ranger Freedom-One TR696, 936, 966, 969 and the Texas Ranger 396. Simply change the crystal X3 with the one in the kit, unplug the NB/ANL or TONE switch and plug it into the board. Then unplug the channel selector cable and plug into the LC35, plug the LC35's cable into the main board. You're done!! No more center frequency shifts when you change bands because the switching is done in the PLL, not with crystals. The Microprocessor has a built in oscillator so changes happen lightning fast.
LC35-192; This option upgrades your LC35-128 to an LC35-192. It increases your number of channels from 128 to 192 and uses a 5 position rotary switch instead of the toggle. NOTE! Must be ordered at the same time as your kit. Cannot be added later.
WARNING! This unit is Not Legal For Class D CB Use In The U.S.A. *An Amateur License is required to transmit in the Amateur bands. You are responsible for the legal operation of your radio equipment.
TERMS:

YOU ARE REQUIRED TO AGREE TO THESE TERMS IN ORDER TO PURCHASE FROM THIS WEB SITE.

I BELIEVE IN QUALITY BEFORE QUANTITY! (And from the sales I'm receiving, so do you!)

SO IF YOU'RE IMPATIENT, DO NOT ORDER FROM ME!! Let me repeat that, IF YOU'RE IMPATIENT, DO NOT ORDER FROM ME!! I SIMPLY REFUSE TO RUSH MY BUILDS.

Each radio goes through 24 hours minimum of burn-in testing when it's finished. IT WILL BE RIGHT WHEN IT LEAVES MY SHOP!

Normal turn around times;

"Major Custom radio's" 280 to 320 business days.

"Custom/Modified radio's" 45 to 60 business days depending on model.

"Stock/No option radios" are usually 1 to 2 weeks.

Depending on the difficulty of your build or the builds in front of it, this time could be longer.

"Major Custom" in this case means that you have added an option that requires a significant modification(s) to the stock radio that takes more than 3 hours to install. Such as the SP-1a, AD-203, upgrading amp deck, LesComm RCI Noise Filter, etc. are considered Major Custom builds.

"Custom/Modified" examples include LesComm Enhancements, Basic Clarifier mod, Amp Switch, Hi Cut Filter, etc. just to name a few. However if you add a lot of these small upgrades it could move your order to the "Major Custom" category.

"Stock/No option" means just that. These receive only a general tune up.

***Does not apply to Scanners. Scanners ship within 48 hours of purchase.

Customers are taking advantage of the MANY custom options we offer . Depending on the difficulty of your build OR THE BUILDS IN FRONT OF IT, this time could be longer!

There are NO REFUNDS for custom radio, amplifier or power supply orders. NO EXCEPTIONS! NO EXCEPTIONS!

SO BE SURE BEFORE YOU ORDER!

20% restocking fee on "as new, non-customized" radio returns. Radios are built AFTER they are ordered in the order of "payment" received.

AGAIN, THERE ARE NO REFUNDS OR RETURNS ON CUSTOM RADIO, AMPLIFIER OR POWER SUPPLY ORDERS, AND KITS, NO EXCEPTIONS. So be sure BEFORE you order!

This is how it works folks. When you place an order for one of our custom radios we immediately (that day) order the necessary parts needed to build that radio including the donor radio, and set them aside for your build. So we have already invested your money in your order. We do this to prevent coming up short of the parts needed because it was discontinued or changed. (Which happens a lot!) I know this is a long time folks. But I'm only one person. I will work as fast as I can, without compromising quality, to get your order out. So as it says above, if you are an impatient person, do not order from me.

YOU ARE REQUIRED TO AGREE TO THESE TERMS IN ORDER TO PURCHASE FROM THIS WEB SITE.

We very much appreciate your business. And to all of my many, many repeat customers a very special thank you. Tells me I'm doing something right! 73 Everybody! Copyright © LestersCustomTruckShop All Rights Reserved. __________________________________________________________________________________________________________________________________________